Weight Loss Forum And Diet Help Line
This weight loss forum and diet help line is a place for you to share your story or ask a question concerning dieting and weight loss in general.
If you have ever attempted a new diet or weight loss program to lose a few (or many) pounds, did you immediately run into a whole lot of issues you may never have faced before?
What is the best diet to try? What works and doesn't work? Should I consult first with my doctor? What are other people doing? What should I avoid in the way of foods or diet plans?
Most importantly, how do I stick to such restrictions? Do I have to live without my favourite foods? Are there ways to lose weight without starving?
How do I stay motivated? What do I do when I have cravings? etc... etc...
Click here to share your story or ask your question about dieting and weight loss...
This help line is here to bring you the answers, and not just from me, but from readers who have met these challenges themselves and share their stories with you.
So, whether you have questions or answers or both, please share your story by clicking above or by scrolling down to the bottom of the page to the submission form. Right after the submission form you will find stories and questions that others have submitted, so feel free to read and share.
NO you don't have to sign up or register for anything, and this weight loss forum is free to use. All submissions are reviewed prior to being published so you won't find any spam or junk messages here. Just a community of like-minded people helping each other.
Featured Weight Loss Program
Fat Loss Revealed by Will Brink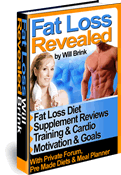 Will sent me a free evaluation copy of this book but I bought the full version to do a proper examination of all the features and bonuses included in the price. These include the ebook itself, which is a no-fluff fat loss plan including exercise and nutrition plans for all levels, a members zone with forum, reviews of all the popular weight loss supplements and bonus ebooks, all of which I have read. Good value for the money. You can read my full review here...Fat Loss Revealed Review
Have a question, tip or personal story or a cry for help related to a diet or weight loss program you have tried? Share it with our readers! Everyone is invited to join in, it's free, fun, and easy. Before and after photos are welcome. Simply enter your question or story in the form below. Or scroll down to comment on what others have shared.
Please feel free to help others!