A Review of Will Brinks "Fat Loss Revealed" Ebook Formerly Called Diet Supplements Revealed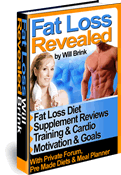 "Diet Supplements Revealed" is now "Fat Loss Revealed".
Will Brink, a recognized expert in nutrition, has taken his popular ebook "Diet Supplements Revealed" and transformed it into a complete fat loss program which has been renamed to "Fat Loss Revealed". I was quite astounded at what the program now contains.
What is it all about?
Brinks book was originally published as an E-book (Diet Supplements Revealed) in which Will Brink did a comprehensive review of all popular diet supplements. It has evolved into a complete fat-loss program that consists of 2 parts.
The first part is the E-book itself which contains 240 pages of cutting edge information on diet supplements, dieting for fat loss and effective workouts to burn the fat.
The second part is the fat loss revealed Members Zone.
The E-book itself is split up into 3 main sections which effectively comprise 3 E-books for the price of one.
The FLR E-book
Section 1 : Diet Supplements Review
Around 30 diet supplements reviewed including Green Tea, Flax oil, Ephedrine, Yohimbine and everything else in between.
Section 2 : Fat Loss Nutrition & Diet
The information in this section is the exact same diet Will has used on professional athletes from golfers, ice skaters and bodybuilders through to hundreds of personal clients from your average housewife to budding track athlete. It's a proven diet, that gets impressive, permanent and long term results.
Section 3 Fat Loss Workouts
In this section Will Brink, explains how to perform a routine that is specifically designed to utilize hormonal responses in the body to elicit a fat burning response. Everything a customer would need to know about training for fat loss is included in this section.
The FLR Members Zone
The Fat Loss Revealed members zone is what really adds to and makes the cover price of DSR so attractive. It includes a forum, meal planner, diet planner, exercise demonstration videos, nutrition database and more.
Below I will explain each one in brief.
The members zone also includes
Forum
This is not your average free for all forum, but a highly organized and professionally moderated support mechanism for all members who seek advice and assistance while following the DSR diet. Each member can post a question and get a detailed response from paid diet, supplement and training advisors and Will Brink himself, who is on the forums every single day apart from holidays. The forum contains over 250 brand name supplement reviews in addition to the reviews in the DSR E-book.
Meal & Calorie Planner
Allows you as a member, who doesn't want to work out your calories and requirements from a written explanation, to simply enter the weight of the portions etc. in to the planner. The planner then takes the calculations from the FLR E-book and gives the user a visual representation of the each meal, how much protein, carbs, fats and calories should be eaten along with a text description of why and how. As a member you can then choose to either print our the meal plans or have them e-mailed to you.
Diet Planner.
The Diet Planner that comes with the FLR program is a good value in that many other diet planners alone sell for the same price or more that you pay for the complete DSR program. It allows you to enter all your foods each day, keep an exact log along with supplements if needed and monitor your progress. Included with the Diet Planner are hundreds of pre-programmed foods which you can add to themselves. The planner shows you your progress via graphs, showing fat lost, muscle gained, and so forth along with a notes area where you can store personal information such as total weight lost and how you felt that day etc.
Nutrition Database
A complete database of tens of thousands of foods, listing complete protein, carbs and fat of each.
Exercise Videos
As a member you can watch the performance of the all exercises explained in the E-Book here.
Members Gallery
As a member you can view other members photos and offer advice and inspiration as well as posting your own if you wish to track your progress.
Articles Zone
A section where recognized experts contribute articles on fat loss and general health.
The bottom line is that even excluding all the tools members are able to use as part of the FLR program, the E-Book and 24/7 advice you get from knowledgeable moderators makes for an excellent program.
Fat Loss Revealed has grown into so much more than just a book about diet supplements I was a little surprised and very impressed. You get alot for your money with this program from a recognized expert in nutrition and weight loss and the best part is there is no recurring monthly membership cost. I give this program a high rating.
Considering everything that you get with this program, I'm not sure why the price isn't alot higher than the one-time fee of $39.95. You can see what the program contains here...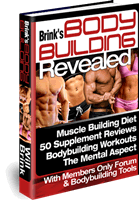 You can read more about the Fat Loss Revealed (formerly Diet Supplements Revealed) here...
Will has also written the book
Body Building Revealed
which contains 630 pages of information on gaining muscle and the price includes membership in the BBR member zone.
Return to "Weight Loss Programs" directory