Exercise Equipment Review
Make Informed Choices for Your Home Workout
Welcome to our exercise equipment review ...well, it is still a 'work-in-progress' as more detailed reviews are regularly being added.
Let us help you choose the best pieces of fitness equipment for your home gym (at a price you can afford).
Please feel free to contact us with any requests or questions concerning any piece of exercise equipment you might be thinking of buying.
This is the list so far of our exercise equipment reviews:
Jogging Stroller Review Bowflex: A fitness trainer explains the hoopla! Exercise Bike Review Home Gyms Review Treadmill Review Elliptical Trainer Review Heart Rate Monitor Review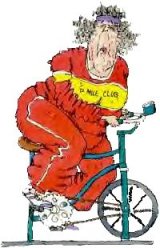 Congratulations! Thinking of buying fitness equipment for your home is a very positive step. The convenience of a home gym will make it that much easier to stick to your exercise plan. We are building this exercise equipment review to make it a little easier for you to sort through the many equipment choices out there.
It's nice not to have to find the right things to wear or to find a baby-sitter, or drive to the gym or contend with poor weather or traffic or the jerk who is hogging the cool new elliptical trainer. Is it ever nice not to have to wait in line at the gym for the equipment you want to use. It just makes sense!
The best part is the time savings. After all your time is limited by work schedules, house work, kids etc...
And you are wise to do the due diligence by checking out our exercise equipment review!
For choice and selection of top fitness equipment brands at competitive prices, we recommend the following online supplier

As with any major purchase, it is important to do your homework and if you are like us, budget is always a consideration.
However, try to avoid the common mistake of buying cheap, poor quality equipment that provides an unsatisfactory workout and frequently requires repair. You'll only get frustrated!
...'Darn, I thought this thing would make me look like Susanne Sommers'...
Numerous homes are littered with unused pieces of exercise equipment that substitute for clothes hangers. Too often people buy informercial products that are the latest fad and are promoted by an attractive, convincing model or celebrity and then discover that the exercise bores them, and that the equipment is poorly built and doesn't deliver on the promises.
In determining what fitness equipment to purchase, you need to define your goals and consider the type of exercise machines that can help you reach those goals.
Many more specific fitness equipment reviews to come with brand names and models mentioned.
Top of Exercise Equipment Reviews page

Inspirations Personal Training Home page