Find Out What a Personal Trainer Can Do For You...
Hi, I'm Cindy Brotherston,

ISSA Certified Personal Trainer,
YMCA Certified Fitness Instructor
Welcome...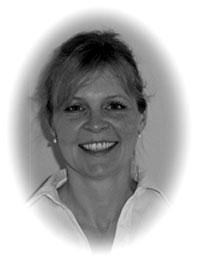 I'm very excited to announce the opening of my new Personal Training Studio, which is located in my home in Beaverton, Ontario.
It's a comfortable, private and well-equipped home gym/studio with hardwood floors and old fashioned trim in our 109 year old home where I provide personal fitness training, weight loss guidance and nutrition counseling.
Have a question (or some answers even) about weight loss?...Visit my
Weight Loss Forum and Diet Help Line!
I work with men and women of all age groups and fitness ability levels on a one-to-one basis.
As your personal trainer I will motivate and encourage you while adapting fitness routines to meet your individual needs, constantly striving to make your workout enjoyable.
Read the Top Ten Reasons To Hire A Personal Trainer
"The nutrition information given to me helped alot. Foods I thought were great, weren't. If I didn't get the advice (from Cindy) I don't think the weight would have come off so easily..."
"I have recommended Inspirations Personal Training to others and a few calls should come your way as a result of my recommendations..."
"I can't thank you enough for putting me on my way to looking better and also feeling so much better both in health and confidence..."
Stacey S.
"Maybe the fact I was turning 60 this year made the difference, or that I have 2 small grandchildren to play with and couldn't even get down to play with them. The fact I was so out of shape and very overweight was obvious but Cindy had me pegged right away and realized a lot of my 'problem' was fear. Her goal for me was to gradually increase my level of confidence one session at a time to overcome my fears.
As the weeks progressed, Cindy added new and challenging things to my program like the strength machine, rowing machine and rebounder. Initially I struggled mentally and physically just to get on and off the machines but slowly, as I got more agile, my level of confidence increased and I wasn't afraid to try new things...that was a huge hurdle to overcome. I liked the new energy that I had and started to walk everyday...in April I was able to keep up with a walk for charity and on weekends, I do weight exercises at home and use the rebounder I bought for myself. I now look forward to my walks and feel cheated if I can't get out.
During my 15 week program I only told my daughter that I was seeing a personal trainer. I didn't tell anyone else because I needed to prove to myself that I could commit, and I wanted to see if other people noticed a difference in my appearance without them knowing I was going to a trainer. Now when people say to me 'you look great' (I've lost over 60 pounds), I tell them how it happened... I would recommend Cindy to anyone!"...
Cathy M.
After an initial, in-depth assessment interview I will provide you with:
a customized and personalized exercise plan including strength training and aerobic exercise.
mutually set realistic and achievable goals.
goal oriented and long-term nutritional counselling, if requested.
ongoing monitoring and updating of your personal exercise program ensuring you reach your targets, feel confident and look great.
a guarantee of results.
Strength training, cardio, weight loss or dealing with a sickness or disability or illness, there is a fitness routine for you that will improve your lifestyle.
Personal training is by far, the most effective way to meet your fitness goals in the shortest time possible. You'd be surprised how much you can learn and accomplish in a few weeks, with a trainer who practices scientifically sound principles to help you reach your goals.
Enjoy the BONUS of a free 1/2 hour consultation with me just for finding my website!
Schedule your FREE, no obligation consultation now... Fill out the form on my contact page we'll get a chance to meet each other to discuss your goals and I'd love to show you my studio.
Regular exercise will bring you the following benefits:
Increased energy, self esteem and focus.
Decreased risk of heart attack, osteoporosis, breast cancer
Increased strength and stamina.
Decreased stress levels and depression.
The list goes on and on...
I'm also regularly adding information to this site about exercise and maintaining your health and reviews on popular fitness equipment, so feel free to look around and ask me any questions you might have or make suggestions for further content.
Here is a partial list of the Beaverton area Cities and Towns I serve as a Personal Trainer:
Atherly, Bay Shore, Bolsover, Brechin, Brock Township, Cannington, Coboconk, Durham Region, Fenelon Falls, Gamebridge, Greenbank, Kirkfield, Lagoon City, Lindsay, Orillia, Pefferlaw, Port Bolster, Sunderland, Sutton, Thorah Township, Uxbridge, Virginia, Wilfred, Woodville, Ontario, Canada
Explore the realm of womans health and fitness issues with a woman fitness trainer and nutritional consultant. Interviews with experts and reviews of supplements, fitness equipment and weight loss.
Weight loss forum to help and support dieters. No sign up, free to use.
A fitness trainers' top picks among online weight loss programs.
Do your food supplements contain what is shown on the label? It is a fact that many don't! Waste no more money on junk! I will show you what to buy, what to avoid and what supplements you need.
Diet Scams and Truths: A Fitness Trainer states her opinions on diets and weight loss plans.
About 1/4 of bottled water is bottled tap water! Here's proof that the safest and tastiest water is easier and cheaper than you think with the right water filter.
A practical look at womens health from a wellness and disease prevention point of view. Here's what you can do to prevent and reverse osteoporosis, prevent breast cancer & heart disease.
Let a fitness trainer show you just some of the exercise benefits of a fitness program.
An exhaustive list of exercises with descriptions by a personal trainer.
A fitness trainer and a whole lot of everyday folks give great tips on finding and maintaining the motivation to exercise.
Womens Weight Training: any woman interested in losing fat and transforming her physique should listen up!
Top workout tips. Don't let these common mistakes and misconceptions ruin your workout routine.
Stretching: A fitness trainer gives examples of problems encountered by NOTstretching.
An exercise equipment review by a fitness trainer to help you find the best fitness equipment for your home.
Get the best fitness trainer education you can to begin a career you can be passionate about.
I have compliled a listing of fitness trainer schools that can deliver a top personal trainer education, some even offer training online.
Learn to use mind power to accelerate your weight loss and fitness program.
Safe and sane weight loss strategies and tips from a woman personal fitness trainer and nutrition consultant.
Article Index
Information page about Cindy Brotherston, Certified Fitness Trainer
Original, informative fitness article submissions will be published subject to certain guidelines.
Links to relevent fitness, health and weight loss websites that may be useful to our visitors.
BusyWomensFitness.com Privacy Statement
BistroMD concept is diet meals delivered to your door that are delicious, nutrionally balanced and convenient.
Would you like to share your knowledge about personal trainer? Great, find out how you can submit your story or tip here.