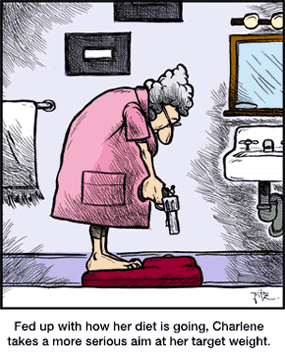 If this cartoon expresses your frustration with Diets and Weight Loss Programs, you aren't alone...
Sheesh! there are sooo many to choose from!
But is there one that will really work?
Atkins? The Zone? Southbeach? Dr. Phil's Shape Up? Low Carb? High Protein? Low Fat? There are too many other plans to even count, some good, some not so good.
The answer to the puzzle depends on you. As a unique individual you require a program designed specifically to work with your metabolism.
Do you want to lose 10 pounds ... 100 pounds?... more?
Whatever your goals may be, we can help you choose among the best programs available.
My name is Cindy Brotherston , I'm a certified Fitness Trainer, YMCA certified Fitness Instructor and nutritional consultant and I've reviewed and rated dozens of internet weight loss and fitness programs.
I've seen the good, the bad and the ugly and I've weeded out everything but the very best!
On this page you will find a comprehensive listing of online diets and weight loss programs created by experts who understand that weight loss, permanent and healthy weight loss, can only be achieved by making some changes in lifestyle. Don't worry, the changes are not that painful!
Willpower alone will never do it.
Fad diets will never do it.
You need solid support, ongoing encouragement as well as sound nutritional and fitness advice, all built into a convenient, incremental system.
The only missing ingredient is your decision to take action.
So it's really up to you. Get in and get looking. The sooner you begin, the sooner you'll get into the shape and the body of your dreams.
So, go ahead!
Just imagine how much more fun your life will be when the slimmer you comes out from hiding!
I wish you all the best with lots and LOTS of Success in your quest!:-) - Cindy
Top Rated Weight Loss Programs