Reviews and Advice to Help You When Choosing a Jogging Stroller
It could be argued that a jogging stroller isn't, in itself, a piece of exercise equipment,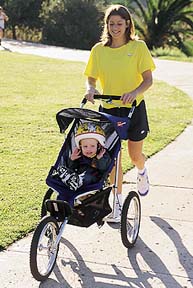 but we thought they were well worth looking at as they can certainly free up a mother (or father for that matter) to pursue a fitness program or just get around when you have a little one in tow (and walking or jogging with your child will provide excellent exercise!)
Compared to a traditional baby stroller, a jogger has features that make it much safer and easier to push and maneouver. If you have ever tried to push a traditional stroller (the ones with the small wheels) you will remember how hard it was to get over even a small bump or object and it would bounce and jiggle like crazy on a rough road.
Read on to learn the best of these features and you will quickly see the advantages over the old style.
Read our reviews of the following Jogging Strollers:
Most provide
adjustable seats
designed to accommodate a range of child sizes, from 5-month-old infants to 5-year-old preschoolers. Some feature seats that recline to accommodate the youngest and smallest of infants. This feature is popular among parents with with infants under 3 months of age.
Brakes are an essential safety feature on any stroller. They offer a basic hand brake that operates much like a bicycle break and more advanced strollers will also feature parking brakes.
A Canopy is a standard feature. It provides your baby with protection from the sun, rain and wind and can also can act as a shield against insects. Canopies come with a variety of features depending on their purpose. Retractable canopies can be raised or lowered for sun protection. Mesh canopies feature netting to allow your baby to see out while blocking the sun's harmful rays.
Jogging Strollers are offered in a variety of colors. Depending on the brand and model you select, one or more colors may be available.
Some are suited for urban areas and some are suited for all terrain areas. Strollers with all-terrain capability can be used virtually anywhere, even on dirt or gravel roads. Urban use strollers should only be used in areas with paved, smooth surfaces.
A stroller's ability to fold or collapse down for easy storage is a consideration for many parents. If you travel frequently by air or transport your stroller by car daily, one that folds or disassembles quickly can be significantly more convenient than a non-folding model. Some more advanced models are equipped with quick-release wheels that pop off for ultimate compactness when folded.
Frames are made from a variety of metals, including steel and aluminum. The difference between the two materials is in their weight. As with a bike, an aluminum or alloy frame will reduce the weight. Parents who run or jog, for obvious reasons, tend to prefer lightweight, aluminum strollers. If the weight of the stroller is not a factor, you might opt for cheaper steel construction.
Harnesses are advanced seat belts that secure your child in the seat. These are an essential safety device that helps keep children within the stroller during bumps, sudden stops, and accidents. The 5-point harness is the standard feature on most joggers. Some less expensive twin strollers feature T-sheilds that lack the center-chest clip.
You can choose one that will accommodate one, two, or three children simultaneously. Multi-rider Jogging Strollers are balanced so that they can be used with any of the seats occupied. Many families with two small children of different ages find that twin strollers make an excellent and cost-effective alternative to buying two single-child strollers. Also of interest, some parents with two children opt for a triple stroller that provides an empty seat in the middle to keep them from fighting.
Pockets, pouches, and trays are available on some jogging strollers. They offer additional storage space for baby accessories and personal items such as wallet and keys. Pockets vary in size as well as how they are closed. Active parents may find that zipper or drawstring pouches provide an added measure of security during bouncy rides, while other parents prefer the easy accessibility of trays or unsealed pouches.
The rims on a jogger can be made of chrome steel, polymer or alloy. Rim choice is mostly a matter of appearance and personal preference and budget. Some people enjoy the added touch of beautiful chrome. For those who care little about the appearance of the Jogging Stroller wheels, polymer would suit them just fine.
Perhaps the most important aspect of the wheels, other than the larger size and rim choice, is the fact that the tires are pneumatic (air filled). This gives a much better ride than a solid tire as you will know if you ever owned a solid-tired wheelbarrow (very hard to push!)
Shock absorbers are integrated into the frame of more advanced jogging strollers to even out the ride over uneven surfaces. Active parents seeking the smoothest ride for their child while running or over even the roughest terrain often prefer a good shock absorbing system. Shocks can prove useful even over more sedate terrain -such as uneven flagstones and cracks in the sidewalk.
Washable Seats can be easily removed cleaned and dried in a washing machine and dryer. I wish we had washable seats in our mini-van!
Weight capacity refers to the certified weight that the stroller can carry. The number refers to the total weight of the rider(s) and not the weight of any accessories or items carried in the pockets and pouches. Although all jogging strollers are tested for weights that greatly exceed the weight capacity, for safety considerations children heavier than the weight capacity shouldn't ride in the stroller.
Wheel sizes range from 12" to 24" in diameter. The various wheel sizes are designed for different terrains and running/walking speeds. Generally speaking, the larger the wheel, the smoother the ride and easier the push. So for jogging and rough terrain, look for a larger wheel diameter.
Our Recommendations
There are a half a dozen well known manufacturers of jogging strollers that each make several models (actually dozens of models in some cases).
Because you are looking here for advice on choosing the best of the lot, we have narrowed it down to a few major brands and certain models within those brands. There are several other quality brands available but we decided to stick with the best overall reviews and owner comments we could find. If you are actively looking for a jogging stroller, this review should give you the information you need to make an informed choice even if you choose another brand.
The brands we are recommending, not necessarily in order of preference are listed above.
Pricing
As far as pricing is concerned, do your research at all of the manufacturers sites and at the various sporting goods sites, but in many cases, we found that Amazon.com
had the best prices.


Back to the top of Jogging Stroller Review Page

Click here for a complete listing of our Exercise Equipment Reviews