BOB Jogging Stroller Review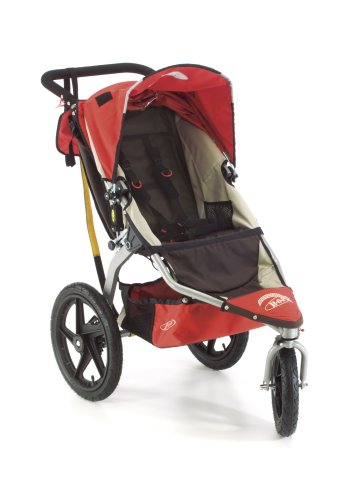 Bob Jogging Strollers are considered by many as the brand to beat. They are well designed and made in California with the outdoors and fitness in mind.
Generally speaking, when shopping for a jogging stroller, you should look for light-weight aluminum frames, large wheels and air-filled tires, a decent sun/rain canopy, storage capabilities for bottles, snacks and other sundries, a good braking system, 5 point child harness, adjustable height handle and easy foldability for packing into your car. After that, there are various features that can make your stroller that much better or more useable than the rest. Each of the models that BOB produces has a slightly different purpose and has features appropriate the the intended use.
Quality construction and durability as well as ease of use are key to your enjoyment and Bob Jogging Strollers are a little higher end than others in regard to these elements. You will find too that the prices are a little higher than other brands.
Be sure when you are looking for a stroller that you are get the best one to suit your purpose. If you will be using it primarily for taking your child shopping or walking then a swivelling front wheel model would be best for maneuvering. You would also want one that isn't so long and has alot of storage capacity. The beauty of a 'jogging' stroller is that generally they have larger, easy rolling wheels and great suspension for a comfortable ride. If running with your child is your primary reason, then look at the stollers designed for runners. A BOB jogging stroller designed for both running and city walking will do both jobs nicely, but there are some minor compromises that are made in order for them to be multi-purpose.
BOB Revolution Stroller
The Revolution jogging stroller is a 'cross-over' stroller meant for both walking on crowded streets and running on trails with your child.
It has a 12-inch swiveling front wheel featuring a ball-bearing headset for smooth and reliable performance. It allows easy maneuvering in tight corners and crowded aisles, and is compact enough to fit in tight spaces.
Yet it also has a great shock absorber system and a locking front wheel that will give a smooth ride when jogging on rougher trails.
This BOB jogging stroller has a welded frame made of high strength aluminum alloy and durable, stain-resistant fabric that wipes clean. The ultra-padded seat reclines up to 70 degrees (from vertical) and offers two seat pockets and a large seat back pocket for additional storage of toys and snacks. For added convenience and comfort, you can adjust the shock absorbers for big or small kids.
The Revolution has a two-step fold-up design for convenient portability. A foot-activated parking brake and the five point safety harness with ASTM approved sternum strap are noteable safety features. It is padded for comfort, and sewn into the seat fabric and connected to the frame for added safety. The padded shoulder harness offers additional comfort, and adjusts easily thanks to the red plastic pull rings.
The Revolution weighs 23 pounds and measures 38W x 16H x 23D inches when folded with the wheels on. It is recommended for children who are at least eight weeks old. Please note that babies incapable of holding their head up must have additional head and neck support to ride safely and comfortably. For jogging or off-road stroller use, children should be at least eight months old.
What others have to say:
The BOB Revolution stroller has a huge number of positive reviews, for example:
"I just got my 2007 Revolution and I absolutely love it. My 19 month old gave it his seal of approval when he refused to get out of it the first time he went for a ride. If he even sees it, he wants in it!"
"The BOB jogging stroller is wonderful. It has met all of our needs in a stroller, and is compatible (even though it's not on Bob's official list...) with our Chicco Keyfit30 carseat that we love, love, love!"
Pricing:
The BOB Revolution stroller lists at $389. However we found lower prices at... BOB Jogging Stroller at Amazon.com
BOB Revolution Duallie Stroller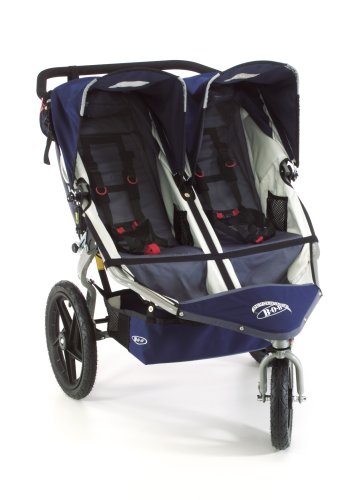 The Revolution comes in a model built for 2 children. It has most of the same features as the single but of course is larger and a little heavier. This BOB jogging stroller comes highly recommended by others who have bought it. On the negative side, it is quite expensive relative to other brands. Another complaint is that it does not have a hand brake which can be convenient for quick stopping.
The Suspension system is capable of 3 inches of travel providing a smooth ride, it weighs 33.2-pounds and has the same 12" Front wheel that swivels for maneuverability and locks forward for jogging. It has a two step folding system and a compact folded size. Comes with two independent folding canopies and padded reclining individual seats with adjustable 5 point harness that complies with ASTM safety standards.
What others have to say:
"BEST stroller, tried 7 other doubles... Now owned my BOB jogging stroller for one year and I STILL LOVE IT!!! It's holding up fantastic, still turns on a dime, nothing broken, creaking, squeaking, ripped or faded. My kids totally beat it up (food, mud, markers) and it still looks almost brand new. I hose it off every once in a while and that does the trick. "
BOB Sport Utility Stroller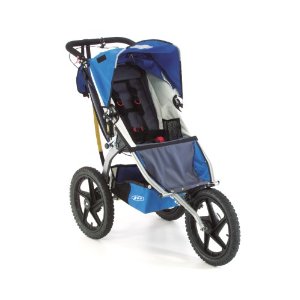 Features:
The BOB Sport Utility Stroller features a fixed front wheel for off-road use, a 2 step folding system for compact storage, and a foot-activated rear parking brake that locks both back wheels. The spring suspension system allows for a smooth ride on rough terrain. It also has a well padded reclining seat with durable fabric and a hand brake for slowing down. It has a welded aluminum alloy frame for durability and 2" air-filled knobby tires for on and off road use. This BOB jogging stroller has an adjustable 5 point harness for safety. The weight is 23 pounds.
This stoller also comes in the BOB Sport Utility Stroller D'lux
model.
Pricing:
The list price for this BOB jogging stroller is almost $300 at time of writing but we found better prices at Amazon.com
What others have to say:
Over all, buyers of this stroller are well pleased with their purchase.
"I was very hesitant to buy this stroller because of how much it cost. But, I am now VERY glad that I spent the money. I live in a rural area, with only fields and dirt paths in which to walk; no sidewalks at all. I leave this stroller on our porch and just plop my daughter in it when we are ready for our walk. This thing handles like a dream- over sticks and rocks and tire ruts (TRACTOR tire ruts, that is) and cotton stalks, you name it, this stroller can handle it."
"I have had this stroller for almost 2 years now and I use it almost daily. It's so sturdy and comfortable for my son and easy to pack if you want to take it somewhere. It is easy to push on just about any surface, including sand (where most strollers won't go). The only places we avoid using it are in crowded places (it's a little long and you need a little space to turn it) - we use a regular stroller for places like the mall. "
You will also find a 2-up version of this BOB jogging stroller called the BOB Sport Utility Stroller Duallie
, slightly heavier and obviously wider, but with the same quality features.
BOB Stroller Strides Fitness Stroller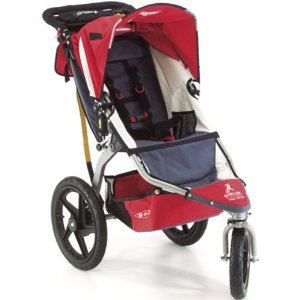 Features:
The BOB Stroller Strides Fitness Stroller weighs 25.6 pounds and has the same quality suspension as the other BOBs for a smooth ride on rough terrain. It has an tough welded aluminum alloy frame for strenth and durability and lightness as well as a swivelling/locking front wheel for versatility. An easy 2 step folding system makes it compact for travel. Has a hand brake for slowing and a foot brake for parking that locks both rear wheels. It has an adjustable 5 point harness that complies with ASTM safety standards, is padded for comfort, sewn into the seat fabric and connected to the frame for added safety.
Pricing:
The retail price of this BOB jogging stroller is almost $400 at time of writing but usually better prices can be found at Amazon.com
What others have to say:
Reviews of this stroller are overwhelmingly positive...
"I am in love with the BOB jogging stroller! It has helped me to get back in shape (mentally and physically) from my pregnancy. I am able to run just as I did before, just now with a baby along for the ride! It is very lightweight, very durable, and relatively easy to take in and out of the back of my Honda CRV. I also got the infant seat adaptor and have not had any problems with that either. I do look forward to when I can just put my baby right in the stroller though, instead of strapping in the car seat."
"This stroller was expensive but well worth the money. It is well made and still looks and feels brand new through two kids, lots of mud and rain, and off-roading. For us, we use it more as an all-terrain stroller than a jogger, but it is nice to have the option to lock the front wheel."
Yes there is also a BOB Stroller Strides Fitness Stroller Duallie for those with 2 kids to move around. It is heavier and wider than the single, but just as well made.
BOB Ironman Sport Utility Stroller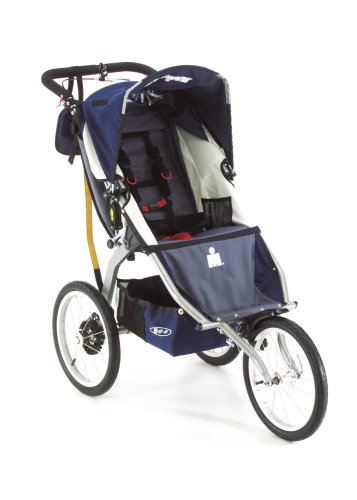 Features:
The Ironman Sport Utility Stroller by BOB is a combination of the lightweight sport utility stroller with a more rugged build. The Ironman is a good fit for parents who want a stroller that will stand up to serious running, with top safety. I has stiffer three-inch suspension that utilizes shock absorbers (coil springs with an elastomer core) for a gentle ride and top performance. It has two positions to accommodate bigger and smaller children. The fixed front wheel and 16-inch road slicks have a low profile and high pressure to make it good for city and suburban jogging. The one-hand, adjustable tracking knob makes steering a breeze and keeps the stroller centered.
This is BOB's lightest stroller at 22 pounds. The frame is made of lightweight and high strength aircraft-grade aluminum alloy. It comes with a padded, stain-resistant seat that is soft and reclines up to 70 degrees from vertical It also comes with the standard five-point harness for stability and comfort. The full sun canopy provides ample shade and protection. A front wheel fender shields spray and protects your childs' toes. The canopy window allows you to keep an eye on baby as well. The wheel rims are aluminum alloy with stainless steel spokes, and the hubs feature a quick-release aluminum axle and sealed cartridge bearings. A caliper handbrake slows the stroller, while the foot-activated "parking brake" is simple and handy. Storage is provide with twin interior seat pockets, a large below-seat storage basket, and a deep seatback pocket. It has a two-step folding system and removing the wheels is a simple way to reduce the size for storage.
BOB recommends that children be at least eight weeks old before riding in the stroller and at least eight months old before jogging. The stroller has a weight capacity of 70 pounds.
Pricing:
Retail price for this BOB jogging stroller is almost $350. Check in with Amazon.com
for lower pricing.
What others have to say:
Reviews for this BOB jogging stroller from buyers across the net are very positive (4.5 stars). I am including some exerpts here for your information.
"I agree with most of the other reviews but I wanted to post just to let people know the downsides that I experienced, in case its an issue for you.
This BOB jogging stroller is very well designed, and on the track or any long straightaway it's almost weight-less and I love it.
But if you run in an urban area with twists and turns and curbs and cracked cement, it's kind of a pain in the butt to maneuver this stroller due to the fixed front wheel."
"I am an avid runner and wanted to purchase a baby jogger for when our grandson is with us. It is worth every penny and we have gotten so much use out of it since we purchased it in May. I run and my husband rides his bike along with me."
Other BOB products:
BOB Single Jog Stroller Handlebar Console
BOB Infant Car Seat Adapter For Single Strollers
Bob Weather Shield for Single Sport Utility Stroller/Ironman Models,
BOB Warm Fuzzy
BOB Sun Shield For Single Sport Utility Stroller Models
BOB Handlebar Console For Duallie Strollers
Bob Single Stroller Travel Bag
BOB Sun Shield For Duallie Sport Utility Strollers
BOB Yak Plus Trailer In Black (Includes Dry Sak)
BOB Ibex Plus Suspension Trailer (Includes Dry Sak)
BOB Yak Trailer
BOB Jogging Stroller
Return to Jogging Stroller Reviews