Jeep Jogging Stroller Review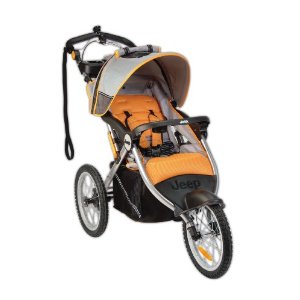 Jeep Jogging Strollers by Kolcraft are advertised by the manufacturer as the ultimate jogger.
The Jeep overland limited jogging stroller is a true jogging stroller and the Kolcraft Jeep Liberty Limited 3 Wheel All Terrain Stroller is a great 'everywhere' type stroller that can also be used as a jogger.
Jeep Overland Limited Jogging Stroller
It has some features that others don't have. It is built with a lightweight aluminum frame and has 16" air-filler tires. Jeep decided to use a fixed front wheel rather than a swivelling front wheel. Standard equipment includes a hand brake to control front-wheel, a rear wheel foot-activated parking brake which locks out both rear wheels, a handle with super grip surface that adjusts to multiple heights and different angles and a safety tether that attaches to the parent's wrist. The jeep overland limited jogging stroller comes with a built-in odometer to track speed and distance, a 'parent' tray that holds 2 water bottles and a compartment to safely hold iPod or MP3 player and other items like keys, wallet, etc. It comes equipped with what the company terms the 'ibaby sound system', so you and your baby can listen to music. The Jeep overland Jogging Stroller folds using triggers and remains upright after folding using the free-stand design. The child seat is padded and can accommodate a child up to 45 pounds and the seat back reclines. The height is adjustable and there is a 5-point harness. Child snack tray has a cupholder. Stroller has a storage basket as well as extra gear pockets.
Model: JJ020XFI Dimensions: 19"L x 13"W x 31"H
Advantages:
This Jeep jogging stroller is ruggedly built and lightweight. Large air-filled wheels are superior for overland travel and handle bumps and curbs etc. much better than small or solid wheels. The wheels are easily removable for storage.
The parent handle is fully adjustable which makes it comfortably usable by parents of all sizes and heights.
Storage compartments are plentiful and handy.
Padding and comfort for the baby is good and the handlebar is padded for the parent.
Lightweight and easy to push.
Has a built in stereo system for ipod or MP3's.
The majority of consumer reviews are positive and the Jeep jogging stroller comes as a recommended buy on several consumer review sites.
Disadvantages:
The fixed wheel at the front of the stroller is seen as and advantage to some but as a disadvantage to others. To steer, you must push down on the handle and lift the front wheel off the ground. This is something you have to get used to and may not like. While the fixed wheel offers some stability on straight-aways, it can be difficult to manouver quickly.
The cup holders are too small for some bottles.
The sound system for the mp3 player/ipod is too quiet for some runners.
What Buyers Have To Say:
"We've only had our Jeep jogging stroller for a few days but we love it."
"This stroller is very comfortable for my son as he quickly falls asleep"
"My Jeep Jogging Stroller has good suspension and is comfortable for my daughter. I love it. I have used it since she was only a month old and I just bought a head support that fits right in."
"The fixed front wheel makes this stroller hard to turn. I have just bought it but will be returning it."
Pricing
This stroller is middle of the road as far a price is concerned. The best value for money appears to be found at Jeep Jogging Stroller, at Amazon.com
Kolcraft Jeep Liberty Limited 3 Wheel All Terrain Stroller
Though it can certainly be used as a jogging stroller, the Jeep Liberty is advertised not as a jogging stroller, but as "all-terrain".
It is heavier than the Overland stoller,but comes with the ibaby sound system, large air-filled tires that are best for a smooth ride on all types of ground, a swivelling front wheel that can also be locked in place, snack holders, a parent tray and a child tray. Folding for transport may be awkward.
Buyer reviews are 95% positive.
The Kolcraft Jeep Liberty Limited 3 Wheel All Terrain Strolleris recommended for anyone who wants a good quality, versatile stroller.
Pricing
Reasonably priced at from $120 to $160, depending on sales. For best pricing see Amazon.com
What Others Have to Say:
"Be warned that The Jeep Liberty Urban Terrain strollers are not really joggers. With the handle so close, you don't have enough room and will kick the back of the stroller if you run. It works well though for walking on rough ground, or on the grass."
Other Products by Jeep:
Jeep All-Weather Umbrella Stroller Blue
Jeep Jogging Stroller Weather Shield
Jeep Wrangler All-Weather Umbrella Stroller
Jeep Stroller Mesh Bag
Jeep Stroller Tote Bag
Jeep Side By Side Stroller Weather Shield
Jeep Universal Stroller Hook
Jeep Stroller and Carrier Netting
Return to Jogging Stroller Reviews
Return to Exercise Equipment Reviews