Instep Jogging Stroller Review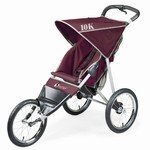 InStep Ultra Runner Jogging Stroller
Features
The Instep jogging stroller has 16" Alloy Wheels, protective canopy, a Reclining seat and 5-point harness for safety and comfort. It has a removeable fixed front wheel and easy folding frame made of lightweight aluminum alloy. Handbrake and tether included.
Ultra Runner includes a parent tray, behind and under the seat storage, quick release wheels, rear suspension, padded push bar, tinted canopy visor, canopy viewing window and mesh venting in rear.
The 2 child version of the Runaround can be seen here...InStep Run Around 2 Double Jogging Stroller
What other buyers have to say:
Generally speaking, purchasers of the Instep Ultra Runner Jogging Stroller were satisfied up to a point. Each review I found contained pro's and con's. This is a middle of the road jogger that serves well enough at certain jobs, but is lacking in some qualities...
"For the price, I thought it could be a little better. Adjustment straps for the seat are a pain"
"The stoller is OK but I wish now that I had spent a little more for a better one."
Pricing:List price is about $300, but you may be able to find better pricing at Amazon.com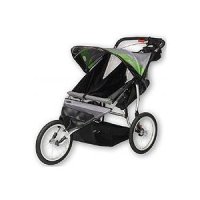 Instep Ultra Runner 2 Jogging Stroller

This Instep Jogging Stroller also comes in a two-up model. It has all of the features of the single, but of course is made for 2 children. It's a little heavier and obviously wider than the single.Instep Ultra Runner 2





InStep Safari Swivel Jogging Stroller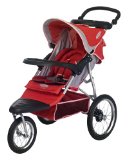 Features:
The Instep Safari Stroller comes with a 12-inch swiveling/locking front wheel, 16-inch rear wheels, plush cabin including removable seat pad and child tray. It has an under-the-seat storage basket for groceries and toys.It measures 42 x 58 x 26 inches (W x H x D) and weighs 29 pounds. Some models come with metal spoke wheels and others with plastic spokes and rims...you should opt for the metal spokes every time. I'm not a fan of plastic as is it breaks easily.
Pricing
At a suggested retail price of $210, this is in the lower price range for jogging strollers (You will likely find lower pricing at amazon.com
). This puts this Instep Jogging Stroller in the lower end, price-wise, of the strollers reviewed here.
What other buyers have to say:
Published reviews that we found gave mostly good reports with a few mixed results for this Instep Jogging Stroller. Overall it is well constructed but suffers from some defects in design and convenience items. The parent tray has too small a holder for adult drinking bottles, the sunscreen is not designed well and the new wheels are plastic rather than metal.
"For the price I am very happy, the Safari is rugged, has a good sun shade, and is portable."
"It runs well on all surfaces. The swivel wheel is great.- It is a little heavy for lifting but runs smoothly and effortlessly.- Going for a stroll is a great way to put my 1 year old to sleep.- fits easily in my CRV."
"I've owned it for a while now and I'm well satisfied. I think it was well worth the money and I would buy another. A few additional thoughts:
* BEST FEATURES: I love the way it handles and is comfortable for my baby. The canopy is excellent and I've used it in all weather and conditions."
InStep Safari Swivel Double Jogging Stroller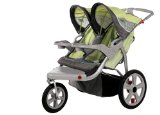 The Instep Safari also comes in a double model for 2 kids. A little wider and heavier but with the same features as the single. Note the plastic wheels. I'm not a fan of plastic and I know it is used to make less-expensive parts and this helps keep the price down. Plastic wheels make the Instep jogging stroller a little lighter and may not be a problem, depending on how roughly it will be used, but in my experience plastic parts will tend to be the first to break, especially with age as the plastic deteriorates from exposure.
InStep Suburban Safari Double Jogging Stroller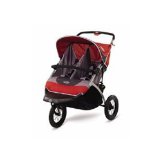 The 2 child model of the Instep Suburban stroller is a good choice for comfort, maneuverability, and ease of use in an affordable package. It comes with large wire spoked, pneumatic wheels and can handle any terrain. The front swivel wheel and a zero-degree turn radius make it easy to manage tight turns and small spaces. It offers children a comfortable ride with a plush cabin, removable seat pads, and a grab bar. This Instep Jogging Stroller has a spacious under-seat storage basket and parent console for water, keys etc.
The Suburban has a one-handed folding system for compact storage and transport. It features a 12-inch locking or swivelling front swivel wheel and 12-inch rear wheels. This Instep Jogging Stroller is equipped with a parking break, tether, and a five-point harness for safety. The seats are padded to keep babies and toddlers happy while riding, and they recline for naps and smaller infants. A bug screen keeps children protected from insects and other air-born hazards.
What other buyers have to say:
Comments posted by buyers of this Instep Jogging Stroller were predominantly positive. There were some reservations concerning certain features of the stroller, but that is to be expected when considering the low price.
For example:
"What I like about this stroller:
1. LOVE the basket underneath...plenty of room for diapers, cooler for sippy cups, etc.
2. Rides smoothly for the kids.
3. Easy to push, I don't feel the weight of the kids at all.
4. Was easy to assemble. I did need help with the front wheel, which my husband ended up putting on for me.
5. In my price range. I just couldn't bring myself to pay a house mortgage payment for the nicer models..i was seriously considering the BABY JOGGER CITY ELITE TWIN STROLLER but couldn't stomach the almost $500 price tag.
What I didn't like:
1. The sun shade cover doesn't quite do the job, but you can buy another shade cover to go on top of it. i really wanted a stroller that had 2 separate shades but just couldn't find one in my price range.
2. No sippy cup holder for the kids "
Pricing:
This Instep jogging stroller retails for $180, but you may find better prices here... InStep Suburban Safari Double Jogging Stroller at Amazon.com
InStep Flash Fixed Wheel Jogger

The Flash Jogger features 16" pneumatic (air filled) tires with molded plastic rims.It has a parent tray with two cup holders and a bicycle-style hand brake for braking. A dual trigger folding mechanism for convenience and storage and a rubberized handle grip for comfortable handling.
As with most things, you get what you pay for and at the lower end of the price scale, this InStep Jogging Stroller
doesn't come with the bells and whistles that higher end joggers do.
For the price of about $130, you get a good stoller for the money. Cost savings come in the form of plastic molded wheels instead of metal and a few other missing luxuries.
What other buyers have to say:
Rather than provide quotes of other reviews of this product, I am summarizing the comments I found to provide a good overview.
You won't be able to adjust the handle height and it can be a little awkward to fold until you learn how. Some users found that the lack of a rear shock absorber made for a little rougher ride than other models.
It was also reported that the Instep Flash Jogger sometimes has a tendency to pull to one side or the other. This can be easily adjusted with tools, but may be a nuisance.
This Instep jogging stroller also comes in a 2-up model called the InStep Flash Fixed Wheel Double Jogger
with basically the same features as the single but a little heavier and wider to accomodate 2 children.
InStep Run Around Jogging Stroller

The Instep Runaround Stroller is a budget stroller but gives good value for the money.
Again, Instep has incorporated 16" plastic wheels with air-filled tires for cost savings. It comes with a five-point safety harness for security. It also includes a lightweight frame that folds for storage and transportation, a protective canopy and a handbrake for safe stopping. The seat reclines so your little one can nap comfortable while enjoying some fresh air. Assembled dimensions measure 46 by 23.5 by 40.5 inches and folded dimensions measures measure 37 by 23.5 by 16 inches.
What other buyers have to say:
In summary:
Users of this Instep jogging stroller had predominantly positive comments about it. The negative comments seem to have come from users expecting top quality from a low priced product. There are the usual stories of the early breakage of certain parts, but the company provides a one year guarantee to cover such things. This is a good product for budget minded people.
The 2 child version of the Runaround can be seen here...InStep Run Around 2 Double Jogging Stroller
Other Instep Products:
InStep Quick N EZ Double Bicycle Trailer
InStep Sierra Double Bicycle Trailer
InStep Sync Single Bicycle Trailer
InStep Take 2 Double BicycleTrailer
InStep Arrow Fixed Wheel Double Jogger
InStep Rocket Aluminum Bike Trailer
InStep Quick N EZ Bicycle Trailer
InStep Arrow Fixed Wheel Jogger
InSTEP Instep Journey Bicycle Trailer
InStep Rocket Double Bicycle Trailer
Return to Jogging Stroller Reviews
Return to Exercise Equipment Reviews