The Schwinn Jogging Stroller Review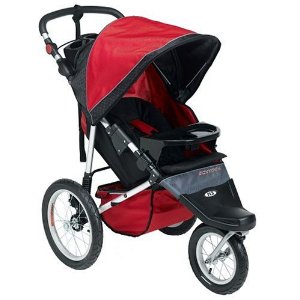 The Schwinn Jogging Stroller brand is owned by Pacific Cycle as is the Instep Stroller brand.
Generally, Schwinn strollers are less expensive, middle of the road to lower end price-wise, but they have a lot of features that make them an excellent buy.
Many consumer reviews are positive and unless you are a marathoner, you should get a lot from your Schwinn Jogging Stroller. Like anything else, you get what you pay for and jogging strollers are no different. Shop within your budget and buy the best quality for the money you have to spend.
Schwinn also makes a line of bicycle trailers for infants. These tow-behind units are great for parents who like biking and want to take the little one along for the ride. Some of these trailers also convert into push-style strollers so you can enjoy the best of both worlds.
Generally speaking, you should look for light-weight aluminum frames, large, air-filled wheels, a decent sun/rain canopy, storage capabilities for bottles, snacks and other sundries, a good braking system, 5 point child harness, adjustable height handle and easy foldability for packing into your car.
Some of the Schwinn jogging strollers come with a fixed (non-swivelling) front wheel. Others have a rotating wheel and others have a wheel that swivels but can be locked into the forward position. There is some argument among users about the best to choose, but it seems that the locked forward position is seen as better by runners because it is more stable in direction. Turns become a little more tricky and some users dislike having to push down on the handle to take the weight off the front wheel in order to turn. This becomes a matter of personal choice.
The Schwinn Free Wheeler Jogging Stroller
This stroller is collapsible for storage at home or in a car and is made of light-weight aluminum. The Freewheeler has a 12 inch lockable front wheel and 16 inch rear wheels, all air-filled for comfort and control.
The sun canopy is large and includes a visor with a weather shield. You will find lots of storage space and compartments for carrying supplies or for shopping. For safety, it comes with the 5-point harness system and parking brake. It has adjustable handle height, soft suspension system for a smooth ride, and can be folded for storage.
The Free Wheeler measures 24.5 by 39 by 43 inches (W x H x D) and weighs 29 pounds.
Advantages: Has the option of locking the front wheel or having it swivel. This provides maneuverablity or stability of direction as needed.
It carries a middle of the road price with some advanced and higher-end features. Has good reviews from many users.
Disadvantages: This Schwinn jogging stroller doesn't lock in the folded position, which can be inconvenient when trying to lift it into a storage place as it may tend to unfold and could pinch your hand.
What Other Buyers Have to Say:
"This stroller is a great replacement for my Graco Metrolite travel system when my baby got a little bigger and I wanted a stroller for hiking trails. I love it. "
"The only thing I wish it had was a folding cover/lid on the parent tray, so items in there would not be in the open. Several friends have
different jogging strollers, and I think mine far surpasses all of there's. I would highly recommend it! "
"We love this stroller. I checked out a whole bunch on line, along with ones that my friends already owned and ones that were available at one of our local and over-priced baby stores. I also spoke with the people at the Schwinn/In-Step company before buying, and it had all the features that they promised. "
"The Schwinn jogging stroller is great for rough terrain and steer's great but it's a little big for store's and smaller isle's. If your looking just for a jogger it's nice but one down side is that it recline's pretty far back even adjusted all the way up so my son is constantly pulling himself up so he can see out."
Pricing:
The Schwinn Free Wheeler Jogging Stroller is lower to middle end in pricing at $180 to $300. I give you a price range because you can sometimes find good deals at Amazon.com
The Free-Wheeler also comes in a jogger built for 2. The same features as above apply to the Free Wheeler 2.
This double Schwinn jogger stroller, though is a little heavier and obviously a little wider than the single. It weighs 27 pounds with a max weight limit of 100 pounds, and measures 35.5 x 31.5 x 16 inches folded. This makes it lighter than many other double joggers in this price range.
Pricing: the list price is up to $360, but usually, better deals can be found at Amazon.com
The Schwinn Turismo swivel single jogger has received top ratings from both adults and kids.
This Schwinn jogging stroller has an aluminum frame which is lightweight, a parent tray with cupholders, slip-resistant, rubberized, adjustable handle and a pivoting child tray, built in mp3 player and a smooth spring suspension. The 12" front wheel can be locked or free-turning depending for use jogging or just walking. The suspension and pneumatic tires make for a smooth ride.
Pricing At under $200, this Schwinn jogging stroller is an excellent buy.


Schwinn Turismo Swivel Double Jogger
The Turismo also comes in a jogger built for 2 and the reviews for it from buyers are very positive.
It is a little bulkier than the single but is very maneuverable and easy to push. Interestingly, the extra seat is sometimes used by parents as extra storage rather than for another child. It allows you to carry your extra shopping with you and your child.
Pricing
The list price is $280, but better deals can be found at Amazon.com


Schwinn Free Runner Jogging Stroller
Because of the fact that The Free Runner comes with a fixed front wheel, it is better suited to running than steering around people and objects in a store. It includes pneumatic 16" light weight alloy wheels, ,hand brakes, a lightweight aluminum frame, a plastic parent tray and pockets for storage. The wheels are easily removed for compact storage and the handle is adjustable.
Pricing
The Freerunner retails for $240 but lower prices can sometimes be found at Amazon.com



Schwinn Joyrider Jogging Stroller
This would be your Schwinn jogging stroller for the dedicated runner who needs to take along their child for the ride.
The features include 20-inch alloy wheels with alloy hubs and stainless spokes and air-filled tires for smooth ride. A canopy with zip in weather shield. Aluminum frame and reclining seat with 5-point harness. Flat folding design and tether so you don't lose control. An adjustable handle, solid rear suspension and child head supports ensure comfort of your child.
Pricing
This is a decent quality, low priced Schwinn jogging stroller with a good warranty. It lists at $310, but you should check out Amazon.com for current deals.


Schwinn Mark III Double Bike Trailer and Jogging Stroller
The Schwinn M3 double bike trailer is also a jogging stroller. Think of the transformers and you get the idea. It features 20" alloy wheels with quick release design for storage and it converts to a jogging stroller with the included 16" wheel kit.It has an extra-wide aluminum frame design that provides more space for each child. It has an external frame that protects the wheels and a universal coupler for attaching to bikes. Comes with a zippered weather shield for protection in poor weather. Has 100 lb. total child capacity and easily seats two.
A common complaint about this Schwinn jogging stroller is that there is a lack of padding in the seat for the child. It is quite wide and sometimes difficult to get through doors and because it is made to do 2 jobs, there are parts that must be stored when using the jogger/trailer for either purpose. But you must remember that it is made for 2 jobs and saves the cost of buying separate items.
Pricing
The M3 retails for $320, but there are better prices at Amazon.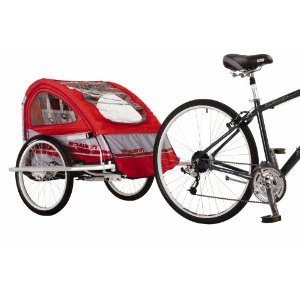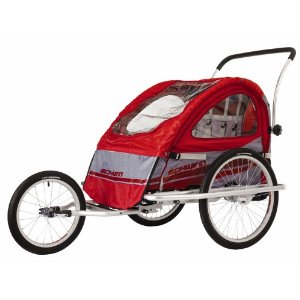 Other Products by Schwinn:
Schwinn Universal Tube (16-Inch x 1.75 / 2.125)
Schwinn Mark II Bike Trailer (Red/Grey/Black)
Return to Jogging Stroller Reviews
Return to Exercise Equipment Reviews