Quality Home Gyms - A Fitness Trainers' Review
Welcome to Cindys' review of home gyms. Let a certified fitness trainer help sort through the many choices.
For the purposes of this review, we scoured the net to find home gyms that meet the following criteria.
The machine must provide a total body workout by providing a variety of exercises for all the major muscle groups, cover a large range of motion, take up as little space in the home as possible, be self-spotting so that you can use it safely by yourself and provide good value (quality construction for a reasonable price) and as much as possible, provide ergonomic comfort and support in its use.
A Home Gym, by its name, should provide the tools to safely perform a variety of exercises for all the major muscle groups by yourself or with others. You quickly find that they all do virtually the same exercises, though some are better than others for various reasons.
Whether you buy an elaborate 4-Stack model costing thousands of dollars or a $500 foreign made unit, you will generally be able to perform a few exercises for each muscle group. Try to fit your space and budget with the best unit to fit your needs.
The main areas of difference between the lower priced and higher priced units is in how the exercises are performed. For instance, on the entry-level unit, a shoulder press may be done leaning forward whereas doing an overhead press with a lumbar support on a more advanced model may be a better way to perform the same exercise. It may be worth your while to go for the more expensive machine so that you will have the proper support if you are suffering from back problems .
Smoothness of movement and comfort are factors to be considered and generally speaking, the more expensive the home gym, the better the motion and comfort.
Advances in technology have brought about an evolution from the huge chrome monsters of 10 years ago to the space-saving vertical-press machines of today. Features like free-floating handles that can mimic the feel of dumbbells are allowing users to experience a converging axis of movement, producing a more sculpted body by strengthening the smaller stabilizer muscles that can be overlooked when using a machine rather than free weights. Ergonomics have been studied to create home gyms that are comfortable, supporting and follow a natural intuitive path of movement for each of the functions that it performs. Attempting to re-create those same biomechanics is a very difficult task. What's even more difficult, is to produce 30-40 biomechanically correct movements on a single machine that fits into 25 square feet or less.
A home gym can provide all the workout options of an expensive health club in the convenience of your own home.
The top units will also offer a lifetime warranty.
Reviews
Not surprisingly, this review (and many others we have seen) has given top ratings for home gyms by Smoothfitness. Smoothfitness manufactures and sells only treadmills, elliptical trainers and home gyms and without fail, provide good value. While these are not the most expensive machines, they are well constucted, well designed ergonomically and meet our space saving, construction, warranty and comfort criteria.

Several other home gym review sites rank the Smooth Evo home gyms at the top of the list as a recommended buy. You can add us to the list of fans.
To see the four models available...Get a Health Club Workout at Home - EVO Home Gyms - Lifetime Warranty - Click here
The EVO Sierra, shown at right, is their least expensive unit. It is designed to optimize your workout in a minimal amount of time. You will also find the 68"(L) x 45"(W) x 82"(H) footprint very space efficient. (59"(W) with optional leg press)
The Sierra provides a wide variety of strength training exercises. The "Converging Axis" press arm delivers the perfect intuitive path of motion where you will feel the tension in your chest and not just your arms. The adjustable back pad with tilt feature allows you to perform incline dumbbell presses, as well as overhead presses. The pressing handles can lock or free float to allow for a variety of motions.
In a reverse position, you can perform seated rows and feel a stretch that you won't feel with any other machine. You will find the 200 lb. standard weight stack comes in handy on this exercise. The Sierra is also equipped with an ab crunch / mid pulley, lat pulldown station, and upright row footplate... all coming out of the front of this very versatile machine.
The second Smoothfitness home gym we reviewed is the EVO Sedona .

The Sedona is another home gym that packs a lot of exercise in a small and compact space. Most supine (Lying Bench Press) home gyms range from 12 to 14 feet in length. The Sedona fits into the corner of your room, utilizing only 67"(L) x 58"(W).
To see the Sedona by EVO Home Gyms - Lifetime Warranty - Click here
With a removable flat-to-incline bench, the Sedona is equipped to do squats, calf raises, lying leg curls, shoulder shrugs, and many other exercises not commonly found on home gyms.
The bench is sturdy but lightweight, allowing it to be removed from the pressing station and utilized for dumbbell workouts. Front lat pulldowns, rear lat pulldowns, and ab crunches can be done seated or in a kneeling position.
The pec fly is contemporary and extremely functional. Forearm pads are adjustable to fit any torso size and range of motion can be controlled by the telescoping back pad.
For optimum alignment, the press arm can be adjusted with a squeeze grip while the user is lying in place. In addition, the weight stack is centrally located and is accessible from all stations. Also, you will find no bulky overhead pivot joints to bang your head against.
If you are "space" challenged, you won't find a better home gym.
Though we don't cover them in full detail here, the Rio Grand II is also rated a best buy and can be used by two people simultaneously and the Tahoe is a home gym built for serious weight lifters. To see them... - Click here
Here's a home gym I've heard alot about so we decided to check it out.
The Powertec Leverage System
is what they call the Workbench Leverage System and provides over 20 free weight exercises in leverage form to exercise the entire body.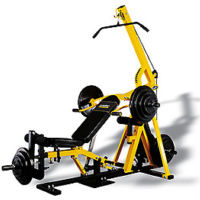 The adjustable height lever arm simply replaces the barbell making leverage a safe and effective form of resistance training. The seat section includes the leg lift and adjusts to numerous decline, flat, incline and shoulder press positions. It also incorporates a new patented linkage system allowing for quick, two position seat section access to be accomplished. In addition, the seat section is mounted on an axis that allows it to pivot 90 degrees out of the way opening up the inner power area for squats, rows, shrugs etc. The overhead lat machine provides both high and low pulley exercises utilizing a lever rather than the traditional guide rod and slider method. Three lat accessory bars along with the lever arm swivel accessory bar come standard with the unit. The patented arm curl attachment is optional. This home gym is built of both 3" square and rectangular heavy duty steel tubing. The leverage machines combine the feel and resistance of free weights with the built in safety and control found in a machine. Please note that the weights themselves are not included.
This is a well built, solid machine that meets all of our criteria and is a recommended buy.
I have noticed that several other review sites agree that the Powertec Leverage System
is a top home gym worthy of consideration.
Have a look at our new review on the Bowflex where we explain all the hoopla over this innovative home gym.
Global Health and Fitness
Want the best weight loss and fitness results in the shortest amount of time? GHF gets the highest rating of all the weight loss programs we reviewed! Click here to try GHF's Fitness Analysis...it's free and you also get a complimentary copy of the ebook "Big Fat Lies!"
Click here for a complete listing of our Exercise Equipment Reviews


Return to the top of Home Gyms Review Page