Burn The Fat, Feed The Muscle: A Personal Trainer's Review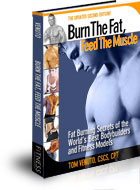 Tom Venuto's program 'Burn the Fat, Feed the Muscle' has been on the market for some time and I am just now getting to a written review on it (a little tardy!).
Venuto has been bodybuilding for over 24 years and competing for more than 18 years. He's been involved in the fitness industry as a personal trainer, health club manager, nutritionist, motivation coach and freelance writer for nearly 20 years.
If you have seen pictures of him, you will be impressed with his physique - he's ripped! The techniques he uses are obviously successful.
His credentials are also impressive:
He's been in IRONMAN, Australian IRONMAN, Olympian's News (in Italian), Muscular Development, Natural Bodybuilding & Fitness, Exercise for Men and Men's Exercise. He's written over 190 articles on bodybuilding, fat loss and fitness.
He has a BSc. degree in exercise science, is a certified strength and conditioning specialist (CSCS) and a certified personal trainer (NSCA-CPT). He's a member of the International Society for Sports Nutrition (ISSN), the American College of Sports Medicine (ACSM) and the National Strength And Conditioning Association (NSCA). He's a competitive bodybuilder and has won three state and three regional championships and even gone as far as 2nd place in the Mr. Natural USA and 2nd in the Mr. Natural North America contests.
Pretty safe to say Tom is an expert in his field.
But can he translate that expertise into a useful fat-loss and muscle building program for the average person looking for results?
My Observations:
Burn The Fat, Feed The Muscle is an easy to read, highly informative and detailed formula for fat loss and muscle building.
This is a large book and is definitely not one you can download and read in an evening. Especially considering the bonus files included with the price in addition to the main book.
The amount of information is almost overwhelming, but don't let that discourage you. It is well written and worth reading.
You should be warned though, that Tom Venuto's prescription for a better, healthier body is not sugar coated. He's very up-front about the amount of effort it will take to achieve your goals.
He doesn't boast of miracle weight loss with little effort.
Rather, he sets out a plan that will teach you your body type and allows you to tailor your own program to suit your unique needs.
Sounds complicated, but if you are serious about weight loss, Burn the Fat, Feed the Muscle will seriously help you. All you need to do is read it and implement the steps.
Among the topics covered Tom will show you...
How to stay strongly motivated to stick with the program.
How to lose fat without supplements or drugs
How to lose fat without starving or feeling deprived.
How to lose fat without the yo-yo effect and break through plateaus.
I don't believe you will find a more complete guide to transforming your physique than this book.
My Ranking: 5/5
User Comments:
"Tom, your book was exactly what I needed. I reached my goal a month earlier, and now I am going on for my goal #2. You are an inspiration and you made me a better woman, wife and mom. I have more energy then ever, I look and am healthy and my doctor even said "Wow!"
Thank you Tom. I will recommend your book to everyone that has been yo yo dieting like me.
Katja Story
"I have been working out properly for about 3 years, but still, I always had too much body fat. I was hovering around 18%, with most of the fat confined to my gut. I was strong, but never quite looked how I wanted.
After getting on the diet described in Burn The Fat, Feed The Muscle, I made my first real commitment to losing body fat and now after 6 months I am at 6% body fat, 156lbs with a GREAT 6-PACK, and no loss in strength or muscle mass.
EXCELLENT!"
Giles Smith
Conclusion:
Burn the Fat, Feed the Muscle and the bonus ebooks Tom includes with the purchase, are well worth the $39.95 price tag, probably much more than that... I highly recommend this publication.
Tom will also offer you fantastic customer service, a great experience, and of course... his product is backed by a fully honored, satisfaction or your money back guarantee. That way, if in the unlikely event this product is not for you, you can return it for a refund.