Fit Over 40 Ebook Review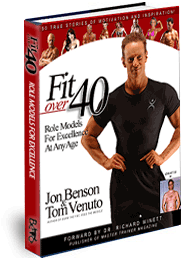 'Fit Over 40' is the story of a former 'fat guy' who managed to not only lose over 65 pounds of excess fat and put on an impressive amount of muscle, but he went on to make fitness and fat-loss his lifes work.
Perhaps the biggest obstacle to losing weight and regaining your physical health is a lack of motivation.
Most overweight people know they 'should' do something about it but can't seem to ever take the first step to actually doing something.
Or, they do take the first step and begin an exercise program with enthusiasm, but quickly get discouraged or 'too busy' to continue. So just how to you find that inspiration to do something, and then keep doing it?
Different things work for different people, but for me, I become strongly motivated and inspired by the success stories of others.
Fit Over 40 is an entire book of role models who share their stories of fat loss and health success.
52 role models are profiled in the book and they tell their own stories of tranforming their formerly 'fat' bodies into lean and muscular form.
As an example, you'll read about the 77 year old grandmother who now competes in body building competitions with her 48 year old daughter. Or A 62-year-old man who looks better today than he did at 22, despite a destructive detour into booze and drugs, and congestive heart failure at 48. Or a 45 year old woman, married with 4 children, who does 3 sets of 10 chin ups with ease...and SHE bench presses 200 pounds!
Jon himself is quite an inspiring story. The before and after picture of him on the right is a graphic illustration of what can be accomplished.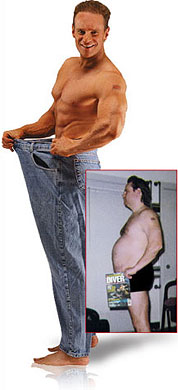 The entire book is full of role models who write about their own transformations —in their own words— to serve as examples, to educate and to motivate other people.
Co-author of Fit Over 40 is Tom Venuto, author of Burn The Fat, Feed The Muscle which you can read more about on my own review page...here
Fit Over 40 is not a diet and exercise guide as such. That wasn't the objective. It is simply a powerful source of inspiration that will be useful to anyone of any age who 'wishes' they were healthier, fitter or slimmer. You will, however learn much of how each of the people profiled managed to achieve their success.
The book comes with an impressive list of free bonuses that will add to the value and a 60 day satisfaction guarantee so that if you aren't as impressed as I am, you can get your money back.
My Ranking: 5/5
User comments:
"WOW! I have already read most of Chapter 1, perused the entire book, and am sooooo excited to read more of it!!! I loved it so much my wife and I decided to buy 3 more copies and present them to our parents as a gift to better health! *WE* are determined to *NOT* be sick and out of shape once we hit 40 (we're not 40 and won't be for a while)—nor for many years after! Thank you so much for providing the inspiration!!!"

Brandon G.; San Diego, CA
"I ordered right away and LOVE IT!! I'm reading it now and it's worth it already. Very clear steps for goal setting and putting emotion behind your goals to help you achieve them with ease. All that in the first few pages. I can't put it down! I believe with this I can finally release those last 12 lbs. of body fat!"
Todd S.; Dayton, OH
"Jon,Today I purchased "Fit Over 40". I've just finished reading the first section. I immediately related to you. During the past two years my health has left me. I thought, this is perfect, just what I need…so much information here that will help me!"
Kay Wood; San Jose, CA
You can learn more about 'Fit Over 40' here...

Return to Weight Loss Programs Directory