7 Minute Muscle Review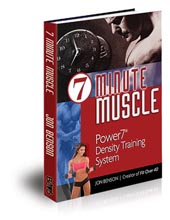 7 Minute Muscle is an ebook with videos published by fitness expert Jon Benson for people who want results without wasting alot of time.
What's the number one reason people don't work out?
Is it lack of money? Lack of motivation? Perhaps they lack the ideal workout plan?
Perhaps it is a combination of all three of these, but the number one reason given by most people is a lack of TIME.
Fitness expert Jon Benson has devised a plan that will get results for the average person in as little as 7 minutes a day, 5 days per week. There is a cardio aspect to the system that isn't included in the 7 minutes, so be prepared for a couple of extra cardio workouts.
It doesn't matter what shape you are in when you start, whether you are a beginner to exercise or have been working out for years, 7 minute muscle has a level for you that will reduce the amount of workout time needed to produce results.
Mind you, if you are more advanced and wish to get to the next level of fitness your workouts will require 14 to 21 minutes to complete. But compared to the amount of time spent in the gym using your present program, you are likely to be able to finish your workout much quicker and get on with your day.
If you are not accustomed to working out and have been intimidated by the amount of time you thought it would take to get back into shape, this could be an answer for you.
7 Minute Muscle also solves the problem of not knowing what to do or who to listen to when looking for an effective exercise program. You are shown exactly what to do at each level in the text and in the video demonstrations that come with the system.
Jon guarantees 7 Minute Muscle to be the fastest gimmick-free method to build lean muscle and burn fat. He uses his trademarked 'Power Density Training System' and refences over 30 scientific studies on the subjects of muscle-building and fat-burning using short, intense workouts. 7 Minute Muscle gives everyone, from beginner to advanced trainee, the exact System of training that builds muscle faster than ever before—and at the same time decreases body fat and increases overall health.
My only warning though is that you should be prepared for intense workouts. You can't expect success in a short time without some sweat. But you won't be pushed harder than you can handle.
In my experience, Jon wouldn't publish any report without meticulous research and testing to validate his methods. The 60 day money back guarantee shows his confidence in '7 Minute Muscle'.
My Ranking: 5/5
Warning: At $77, this system is more expensive than some others and seems like alot of money. To put this into perspective though, compared to the cost of a personal trainer, you wouldn't be able to buy even two 1-hour sessions for that price.
You can learn more about 7 minute muscle here.